Events For Children
Weekly Story-time with Maynooth Library Staff – Fridays 10am / 2-5 years old
Join the Staff of Maynooth Library for some storytelling and nursery rhymes! Please be aware that
a parent/guardian must be present for the duration of the event.
Booking via Eventbrite. 
Friday  05th November.
Friday  12th November
Friday 19th  November
Friday  26th November

Gymboree – Music for Babies and Toddlers – 6 months to 4 years
It's time to get your little one moving, grooving and playing in this interactive class. Let's use some of your little one's energy and imagination in this teacher led, parents facilitated virtual multi-sensory play and music class. This class is online and designed to support parents with their babies and preschoolers as we will sing, move and play.
Booking via Eventbrite – two different sessions available:
Wednesday 10th November at 9.30am.
Wednesday 17th November at 9.30am.

Storygate Online Workshop
Two different sessions, for 5-7 years and 8-12 years.
Story-Map: Discover the Tales of Your County: Kildare and Maynooth Town! In this new storytelling venture, the tellers of StoryGate dive deep into the UCD Schools' Collection to discover tales from your county. How would you like to have no homework for a year? Back in the 1930s, school children of a certain age didn't get any homework. Instead, they collected stories, local cures and wisdom from their grandparents, neighbours and friends. Spooky stories, funny stories and nearly forgotten witchcraft were collected by these children. We want to tell those stories! Join us for stories that were collected in Maynooth and the wider Kildare area. Please be aware that a parent/guardian must be present with children attending the workshop.
13th November 12-12. 45pm – 5 – 7 Years –  Booking via Eventbrite.

13th November 3.30pm – 4.15pm – 8 – 12 Years – Booking via Eventbrite.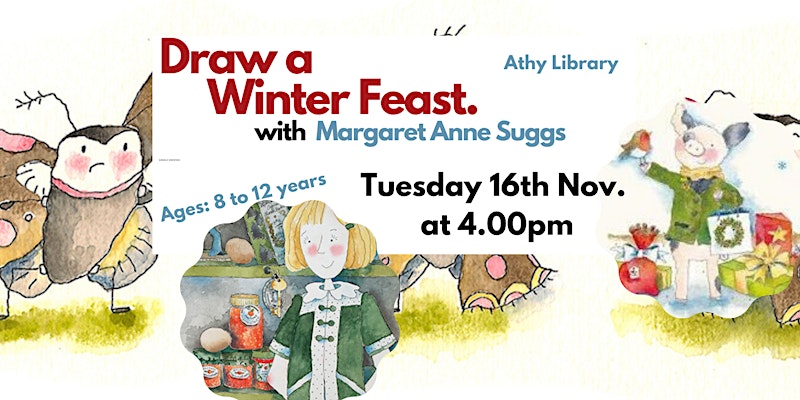 Winter Feast Illustration with Margaret Anne Suggs
Tuesday 16th November at 4pm/ 8-11 year olds
Enjoy drawing a Winter Feast of cakes, cookies, sweets and hot chocolate with the wonderful illustrator of Pigín Books Margaret Anne Suggs!
Book via Eventbrite.

Minecraft Winter Wonderland
Wednesday 1st December 3:30- 4:30pm/Ages 6-10 years.
Do you like to create and build in Minecraft? Sign up for our Zoom discussion and take part in our build challenge which will be sent to you in advance! Children must be accompanied on the video
call by an adult. Places are limited and booking is essential. This month we want you to start building a Winter Wonderland! 
Booking via Eventbrite.
Events For Families
Kevin's Fun Family Quiz
Saturday 20th November at 3pm / Ages 5+ and their families.
Get the family together and join, Kevin (the Quizmaster) to compete with other families for the
grand (Fun) title of Athy Library's Fun Quiz Masters.Questions are super easy, designed specifically for children ages between 5 to 10 years. There will be a small prize for the winning family along with the grand title of Athy Library's Fun Quizzical Masters. There will be five rounds of eight questions. We will email you out the answer sheets before the quiz so you can submit your answers (by email) after each round. Looking forward to a fun Saturday quizzical afternoon.
Booking via Evenbrite.
Events For Adults
Irish Family History with Fiona Fitzsimons & Declan Brady
Thursday 11th, 18th, & 25th November,and 2nd December 7pm – 8.30pm

Kildare Library Service presents a series of ONLINE workshops with expert genealogist Fiona Fitzsimons (Irish Family History Centre, Trinity College Dublin and Declan Brady (Irish Family History Centre, NUI Maynooth) beginning Thursday 11th November.
Each class will focus on a major source. We ask all attendees to have their own records with them. All classes will include a workshop, where students get the opportunity to discuss records for their own research.

Booking via Eventbrite:
Thurs 11th Nov: Evidence in Civil Records (Fiona Fitzsimons)
Thurs 18th Nov: Evidence in the Census (Declan Brady)
Thurs 25th Nov: Evidence in Church Records
Thurs 2nd Dec: Evidence in Land Records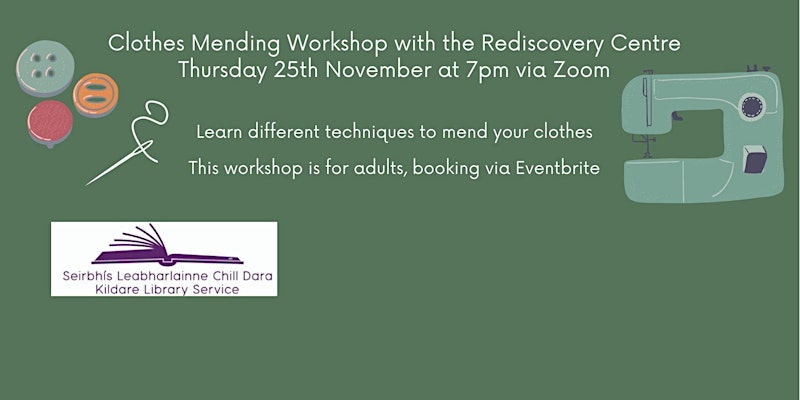 Clothes Mending Workshop with the Rediscovery Centre via Zoom
Thursday 25th November 7pm 

Join Arran Murphy from the Rediscovery Centre to explore the various different mending
techniques you can use to mend a hole or rip in your clothing. Whether it be a patch or a darn,
a visible or invisible repair, mending your own clothes is one of the best and cheapest ways to
extend the lifespan of your clothing and help lessen the environmental impact of the Fashion
Industry as a whole.
Booking via Eventbrite.
Poetry Evening
Thursday 2nd December  6.30pm – 7.30pm  

An evening of sharing poetry. Maynooth and Ballitore Libraries will host an evening of poetry readings and recitations in which all are welcome. Some of you may wish to read, and others might like to just listen, while we enjoy your favourite poems.   If you wish to read a favourite poem which can be read in three minutes or less, please let us know in advance. This event will be hosted via Zoom, you will receive the link to join in a separate email.    
Booking via Eventbrite.
If you'd like to be the first to hear about all our events, sign up to our newsletter here.